Welcome!!!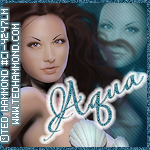 I'm Aqua, welcome to my blog!! I'm 43 years old and single. I've been using PSP since December of 2007, and totally addicted!! Here is where I'll announce new tuts on my site
HERE
, share templates, masks, wordart, etc. that I make. If you need to contact me Email me
HERE
. Please put in regard to blog, in subject line. Thank you!!

My Personal LInks
Tube Licenses

Books I've Read

Monday, July 1, 2013
♥♥
Labels

Blog Archive

♥ Book Quotes ♥